Apperio allows you to create your own custom dashboard layout, made possible through 17 new "widgets" - data points and charts you can choose from, to see legal spend data from a different vantage point. You can use these widgets to build you own dashboard view from scratch, or customise an existing template. Each widget can be further tailored by configuring how they display data.
To create a custom dashboard layout, click the cog icon.

This will then provide a selection of custom layouts supporting a range of different sized widget. Click your preferred layout to start adding widgets.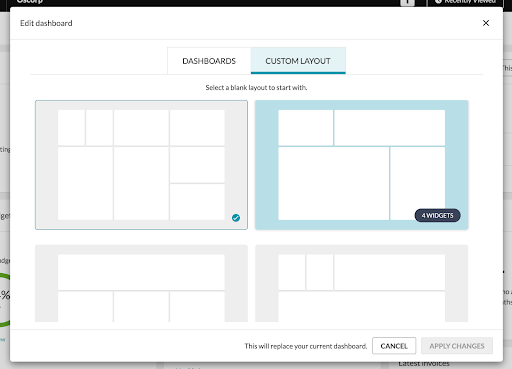 With your layout selected you simply click the + icon to add a widget to that section of the template.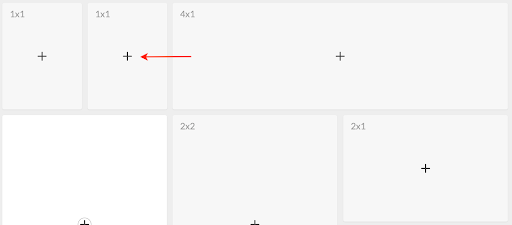 This will then show you all of the available widgets for that section of the template.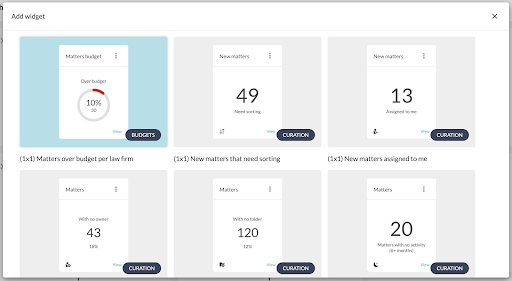 Some widgets will require you to chose whether to shows results for all matters or just the matters you are assigned as the matter owner.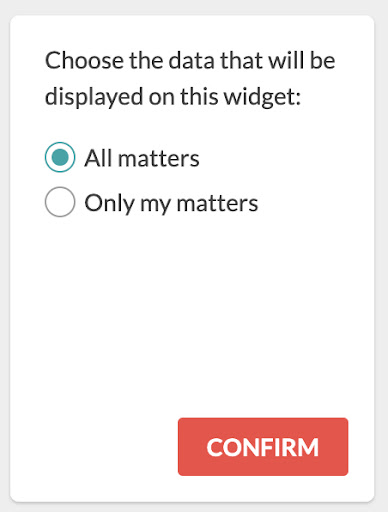 To change, remove or customise the widget click the three dots on the top right of the widgets: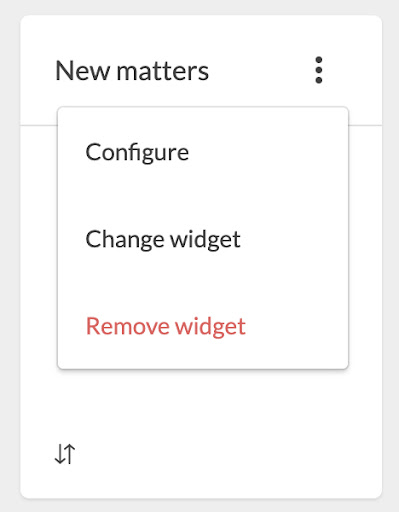 Some widgets have additional options available to further customise the result the widget shows.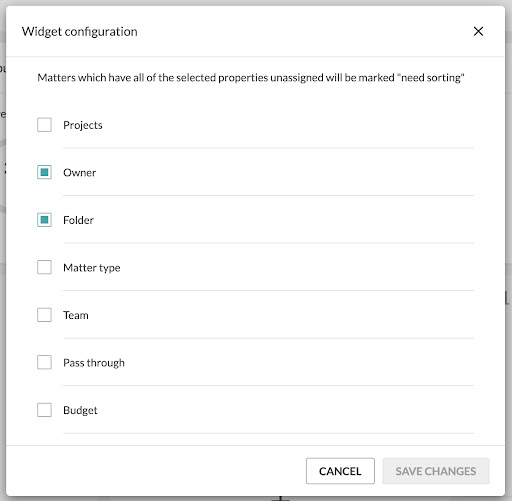 Some of the widgets available include:
Matters over budget.

This dashboard element shows the top matters that are over budget. It can be configured to show the top matters across all law firms – or just a few specific law firms. The purpose is to help the legal department optimize the allocation of work, bring spending under control and manage cost forecasts.



Aged unbilled.

This shows the total work in progress (WIP) across a business, broken down over selected time periods. It can also be filtered to show only the WIP for all firms or just specific law firms. The purpose is to allow customers to identify the unbilled time that's yet to be invoiced and keep track of accruals related to specific forecasting periods, allowing companies to manage billing cycles more predictably with law firms.

Dormant matters.

This widget allows legal departments to see matters that have had no activity for six months or more, yet which remain open and potentially forgotten. The purpose is to help the legal department close dormant matters and predict potential invoices for any remaining unbilled WIP.